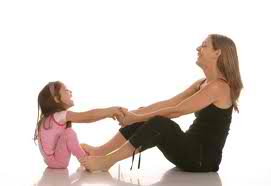 Greetings eFitFamily readers!  Thank you for visiting and we invite you to explore our site to find information and inspiration as you take simple steps towards a healthier lifestyle.  This month we celebrate Childhood Obesity Awareness Month as well as National Yoga Awareness Month.
We continue to face a crisis of childhood obesity in our country.  According to the American Heart Association, approximately 1 in 3 children ages 2-19 are overweight and obese (BMI-for-age at or above the 85th percentile of the 2000 CDC growth charts.)  www.heart.org  Join us in creating awareness and making healthy choices for your family.  As actions speak louder than words and children learn by example, tackle this challenge with us by selecting healthier choices at the grocery store and engaging in exercise and creative activities with your children.
One FUN form of exercise that also helps improve relationships is family or partner yoga.  Research continues to prove that yoga helps increase self-control/self-regulation, self-esteem, and focus.  Yoga also strengthens flexibility of body and mind and connection between the two, as well elevates mood and improves sleeping habits.  Stretch your body and mind, and experience a fun way to bond as a family while preventing childhood obesity.
Comments
comments
Powered by Facebook Comments