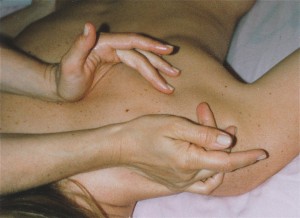 For goodness sake make massage part of the plan for 2012!!  So often I have seen overworked bodies, minds, spirits who need TLC and rendering balance and normalcy to their lives.  So, please, take an hour, a day, a week, a month or so to give yourself the space to regroup so you can function freely.  Bodies are supposed to move freely–no pain.  It's not normal to have to live with pain.  Please, in addition to exercise, diet, and spiritual practice bring massage into your repertoire.  There's something for everyone.  There's a whole spectrum of touch from Reiki to Rolfing, Acupressure to Acupuncture (Tui-Na), a Soulful Massage or a Sports Massage.  As many people as there are that's how many kinds of massage there are.  Find the one for you!!
Better yet, take a massage class with your friend or partner.  Then, you're really bringing it home!  So lovely to make your home your sanctuary. Taking care of those you love is very rewarding.  If you're interested in something like this look to the YMCA or let me know and I'll see what I can put together by way of a class.
It's a known fact that massage in the workplace boosts productivity, morale, comaraderie.  So, have that HR Dept. arrange for a therapist to visit once a month to set up chair massages and clear a few shoulders, heads, necks.  A few dollars go a long way.  Sign up for a 15 minute session and see how your day goes from there.
Some other benefits of massage include that it lowers blood pressure.
It generally improves organ function and blood supply, circulation.
A person can experience greater achievement with renewed energy and cleared mind.  It is deeply relaxing and fatigue relieving.  Self-esteem can soar. Digestion, assimilation and elimination improves.  The lymphatic system gets flushed.  Eyesight and hearing can improve.  Headaches can disappear.  Blood sugar drops.  Pain disappears.  Self-attention is satisfying and brushes off to all aspects of life enabling.
Please find time for your massage.  You'll be glad that you did!!
Comments
comments
Powered by Facebook Comments