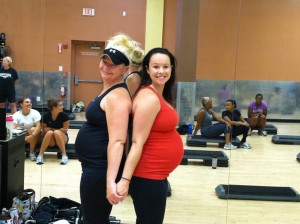 You've finally reached the home stretch!  You're 2/3 of the way through, maybe even picked out baby names, nursery colors and are beginning to nest.  So before you think about slowing down your exercise routine or indulging in those extra treats because you are almost done, read this!
1.      Maintain your workouts – Some experts even recommend ramping up the amount of exercise you do in the 3rd trimester.  Why, the additional fluid and body fat on your body causes swelling and achy joints.  If you keep moving, not only will your body feel better but you will reduce your overall weight gain.  Women gain the majority of their "non-baby" weight – yep, the weight on our hips, buttocks and thighs in our 3rd trimester.  Aim for 3 days per week of cardio (30 minutes, moderate intensity) and 2 days per week of weight training (simple whole body exercises work best).
2.      Nutrition – As a mom who has been pregnant twice I know how yummy that double fudge sundae looks or how tempting the supersized burger and fries can be, BUT before you indulge stop and think for a moment.  What have I already eaten today or this week?  How badly do I need this?  How good is it for my baby?  How many more miles do I want to clock on the treadmill after baby arrives to lose these additional pounds?  With all things considered I allow all my mommy nutrition clients a 80/20 split rule when it comes to pre/postnatal nutrition.  Make 80% of the calories you eat come from lean protein, healthy carbohydrates (whole grains with 3 grams of fiber or more, variety of fruits and veggies) and heart beneficial fats!  The other 20% is your splurge.  It's like your monthly spending budget! 
Example 3rd Trimester pregnancy workout (need gym). 
Directions: Do 3 sets of each exercise.  Repetitions for upper body are 15, lower body 20-25.
·         Lat pull down machine
o   Superset with wide stance body weight squats
·         Chest press machine
o   Superset with light leg press machine (if it has an incline feature)
·         Shoulder press machine (contract abdominals the entire time – use light weight)
o   Superset with seated leg curls
·         Arm curl machine
o   Superset with arm extension machine
·       Finish with 30 minutes of walking.  For additional buttocks and thigh toning add a small incline!
Comments
comments
Powered by Facebook Comments