Summer is the time when school children look forward to free time and activities. Parents must find things to do to help their children stay active and avoid spending the summer in front of a monitor, computer or television. Simple ways to help your family stay active and avoid the lazy days of summer.
Play dates – Get outside and hit the parks, meet friends and while kids play set up a circuit in the park. Easy stations can be set up using park equipment like the monkey bars for fitness activities.
Audio Books – Get your books in mp3 format using them on ipods or mp3 players and plan long walks later in the evening when it's cooler, work in the garden or hiking. When you have something to look forward to you will be more likely to do the activity.
Fun and Active – Kite flying, roller blading or kyacking are summer sports that take fitness power but are fun to do, adding those to your summer possibilities can help you be more active.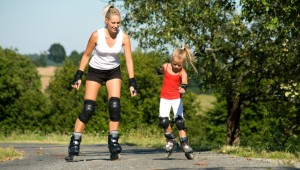 Remember when you have more time –  The sun is out longer and your schedules don't include long days in school get busy out doors. Find active ways to enjoy the summer including everyone in on the fun.
Comments
comments
Powered by Facebook Comments