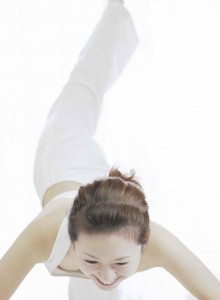 Did you know that for the whole month of September, the Yoga Health Foundation calls for individuals, families and groups to acknowledge and celebrate the wonderful benefits of yoga? It is a campaign to encourage everyone to create a healthy lifestyle based on prevention and is a perfect opportunity to get started with a practice that will nourish you for a lifetime.
Practicing yoga has innumerable proven benefits. From a physical standpoint, yoga stretches and tones muscles, increases flexibility, improves respiratory function and reduces pain and inflammation all over the body. As for the mind, yoga is well-known to reduce stress, calm the nervous system and increase feelings of peace and well-being. Yoga is also a spiritual practice but is not associated with any religion. It just makes you feel happier and all-around better about yourself, and who wouldn't want that?
For me, yoga is the perfect physical exercise. I was never one to enjoy the gym; the machines always seemed so imposing and intimidating to me. Yoga works out my whole body and makes me feel relaxed yet energized at the same time. Plus, it's fun. For an exercise program to work, meaning finding one that you'll stick with and make a habit, it's got to be enjoyable. Something you actually look forward to doing, not dreading. I enjoy practicing yoga so much, and having experienced first-hand the amazing feeling of empowerment it gave me, I decided to leave a corporate career and become a full-time yoga teacher.
Yoga is not just for adults either…there are many kids yoga classes out there. To get children involved in yoga at an early age will inspire them to create healthy habits for a lifetime. Yoga not only provides kids with great physical exercise but increased feelings of self-worth and confidence. I wish I had started when I was a kid!
If you've never tried yoga before, now is the perfect time. There are many community offerings to entice people to come together and try yoga, including "Salutation Nation" by lululemon athletica, on September 10th. Check out your local community studios and gyms and try a yoga class this month. You just may start a new lifetime practice!
Comments
comments
Powered by Facebook Comments