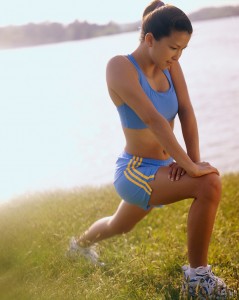 By Cindy Prosser
Your sports bra should be your best friend at the gym (yes, it's even more important than your iPod) so take care to make sure you're wearing the right one. However, your quest for a great fitting sports bra starts well before you ever get to the store or open up your web browser for some online shopping.
Measure, Measure, Measure!
The majority of women wear the wrong size bra. This leads to issues like back pain, shoulder strain and even headaches. Before you even attempt to start bra shopping, get out that tape measure. Some stores offer complimentary bra fittings, so you shouldn't be embarrassed to ask for a free fitting. The women who offer bra fittings are professional and will be able to help you find the perfect size.
However, if you prefer to shop online, you can measure yourself with a soft measuring tape (if you don't own one, look in a local sewing shop or craft store). Measure yourself when you're wearing an everyday, unpadded bra, not a sports bra. A sports bra, especially a compression style that's working as it should, can flatten the breasts, leading to an incorrect measurement. Also make sure your shirt's off since even a thin shirt can skew the measurements.
Take your measuring tape and pull it snugly around your rib cage, under your breasts and your bra band. If you can't breathe normally, your measuring tape is too tight. Once you've got your number, add five and round up to the nearest even number. If your rib cage is 33 inches or more, add three instead and then round up to the nearest even number. You now have your band size.
The next step is measure your bust. Take your tape measure and pull it loosely around the fullest part of your bust. The tape measure should be straight across your back and you want to make sure it's not twisted at all. Round up to the nearest whole number.
After you have your measurements, it's time for math. Subtract your band size from your bust size. If the difference is:
One inch – you're an A
Two inches – you're a B
Three inches – you're a C
Four inches – you're a D
Five inches – you're a DD
Some sports bras don't come in traditional measurements and instead have a size range. If this is the case, choose the one that best fits your measurements.
Try It On
Now that you're armed with the right size, it's time to try on your bras. Choose more than one bra to try on – one company's 36B may not be the same as another's.
Check to make sure your breasts are centered and held completely in the cups. If you're spilling out of the sides or the top, it's too small. If you notice that the cups wrinkle or pucker, it's too big. The cups aren't the only important part though. A sports bra's band needs to fit more snugly than an everyday bra. If it's riding up, it's too loose. If you're unable to breathe deeply and comfortably, it's too tight. Lastly, check out the straps. You don't want to bounce around as you're exercising so make sure the straps don't stretch. Also make sure they don't dig into (too loose!) or slide off your shoulder (too big!). Before you choose the right bra, jump around or jog in place. This will help you determine if you've found the right style and size.
Remember that your breast size can change so when it's time to replace your sports bra (every 6-12 months, in case you're not sure), take the time to go through this process again to make sure you're still wearing the right size and style for your body.
More Bra Resources:
Five Specialty Bras to Fit Your Healthy Lifestyle
Six Shapewear Tips For Getting A Slim Look While Staying Healthy
The Ultimate Bra Fit Checklist for Looking Good and Feeling GREAT
About the Author:
Cindy Prosser is a former underwear model turned freelance writer and mommy. She'll happily commit to wearing Moving Comfort Sports Bras so long as she's not obligated to do any exercise 😉 She does occasionally get out for a run with the jog stroller when she's not busy writing for Bare Necessities.
Comments
comments
Powered by Facebook Comments