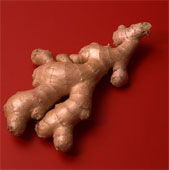 Ayurvedic medicine is India's form of ancient medicine. It works on a system of balancing the body's internal energies by looking at the different temperatures that go inside us. According to this practice, ginger is one of the best foods you can eat.
Because ginger has been around so long, both ancient and modern medicine believes that ginger has numerous benefits. It has anti-cancer properties, great for digestion, and can relieve car sickness by settling the stomach. This is especially helpful for sea sickness and morning sickness for pregnant women. (I have really enjoyed my fill of ginger the first and second trimesters!)
It is so wonderful in a variety of cooking manners. I love to make Ginger Chicken. Just cut the chicken up into bite sized pieces. Add about 1 teaspoon of shaved ginger from the stalk and one tablespoon of low sodium soy sauce, and you no longer have a boring grilled chicken dish, but a spicy, tangy, and zesty chicken. Serve with broccoli and brown rice for a complete meal.
Not sure if you are ready to cook with ginger? Try this tea recipe and enjoy the ginger in your diet!
Lemon Ginger Honey Tea: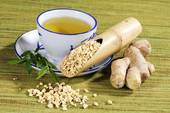 Boil water with kettle
Pour water into cup and add 2-3 slices of ginger.
1 heaping teaspoon of honey or Agave to sweeten
¼ lemon squeezed
Remember, a little ginger can go a long way, so it is better to have too little and then have the option to add more for that zesty kick!
For more training routines  you can check out my fitness and inspiration book, "Fast and Fierce Fitness Made Fabulously FUN!" This is a twelve week program, complete with exercise descriptions, photos of each movement, motivational guidelines, tracking system, progressions for each level of fitness, weekly upgrades on fitness programs, and most of all, FUN creative workouts that leave you more energized, looking great, and feeling fantastic!!! Or if you would like a more specialized program to specifically meet your needs and goals be sure to  check out my online training programs or online nutrition.
Comments
comments
Powered by Facebook Comments