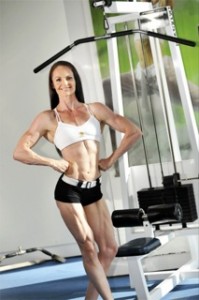 Michelle Nazaroff is a picture perfect example of how incredible determination and a refusal to take no for an answer can help us overcome extreme obstacles in life and still achieve our dreams. A successful athlete who was told she would never be able to compete again, not only overcame a life threatening surgery and returned to the stage, defying the odds –  she returned to the stage a champion!
At the age of 21, Michelle discovered she had aortic stenosis – a valvular heart condition characterized by abnormal narrowing of the aortic valve that impedes the flow of blood. If not taken care of, this condition can lead to heart failure. As a result of her condition, Michelle suffered from breathlessness, fainting, coughing fits, and regular chest pains, but she refused to let this keep her down and prevent her from achieving her goal of winning a World Figure Title.
By December 2003, Michelle was on top of the world. She was in her third year of competing as a successful bodybuilder in Australia. She was right on track to achieving her goal of winning a World Bodybuilding Title, and was set to marry the man of her dreams and enjoy a wonderfully planned honeymoon in two months. She also wanted to start a family.
A few months prior, Michelle had begun feeling quite tired and fatigued, but put it down to the intense three hour training sessions she was putting in at the gym each day. As a precaution she went to see her cardiologist, but was not prepared for the news she received. Michelle's heart had become so large it was taking up her entire chest cavity. Her doctor informed her she would need to undergo urgent open heart surgery which would involve replacing the aortic valve in her heart with a mechanical one. He told her that she would no longer be able to train strenuously which meant her competition days would be over. Starting a family was also out of the question, considered too risky, due to the medication she would need to be on for the rest of her life. The news really threw her. Michelle was shattered.
During the month long wait for her surgery, Michelle become very withdrawn and depressed. She was not sleeping well, her heart was racing, and breathing was becoming more of a challenge each day. Every night she would mindlessly sit and watch television, fearful and uncertain of what was to come. One night a particular infomercial caught her eye and awakened her competitive spirit that she had let disappear. That was it! She told herself she was not going to let this situation get her down. Instead, she was determined to take control of the situation and take fate into her own hands.
For four days Michelle searched the internet looking for alternatives to valve replacements and new surgery techniques that had been developed. On the fourth day she found a doctor in Melbourne, on the other side of the country, who had been performing a new surgery called the Ross Procedure. The Ross Procedure would involve replacing her aortic valve with her own pulmonary valve, and then having a human donor pulmonary valve inserted into the position where Michelle's own pulmonary valve once was. While this procedure came with greater surgical risks, the outcome post-surgery would be much better allowing her to return to full training, and start a family since she would only be required to take one aspirin each day. Michelle's decision was made. She was headed to Melbourne.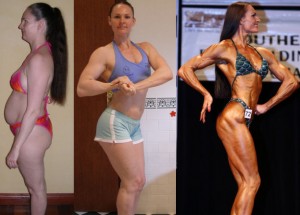 Michelle arrived at the hospital for her surgery with something she had decided was critical for her recovery – a competition photo of her winning an Australian Figure Title. With her intense determination back, she wanted this photo to be one of the first things she saw when she woke up, even though everyone around her was critical of her ever being able to return to the competition stage.
Michelle remained in the hospital for two weeks following her surgery and was able to fly home to Western Australia another two weeks later. Within a few days she was back at her gym doing her physiotherapy stretches. She wanted to rehab in her own gym as this was a necessary part of her healing for both her mind and body. She was determined to get herself back in top physical condition and return to the competition stage she loved so much.
Each day was a struggle but Michelle refused to quit. She was getting stronger every day, going from being unable to open a water bottle to taking the stage competing in her first  bodybuilding show the following year.  Michelle won the INBA All Women's Natural Bodybuilding Tall Class Figure Title and then went on to win the INBA Australian Intermediate Figure Class Title three moths later.  Having been given the opportunity to compete at the INBA Olympia World Titles, Michelle was soon on her way to Las Vegas where she would take the silver medal of this event. She was ecstatic with the result, but she was still not satisfied. In her mind, she had still not achieved her true dream of winning a World Figure Title.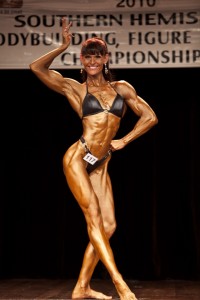 Michelle returned home to Australia to continue her strenuous training routine and eating an all organic nutrient dense diet in preparation for the 2006 Natural Body Building Season. Her hard work and immense dedication paid off when she was crowned with the 2006 Australian INBA Open tall class Figure Title and then one month later won the INBA Olympia World Tall Class Figure Title. Michelle describes this as "one of the most emotional and exhilarating moments of my life." She also states the interesting thing was even with everything she had been through in the past two years, Michelle only went one month over the original goal she had set five years ago of winning a World Figure Title.
Two months after winning the World Figure Title Michelle discovered she was pregnant and now has a baby girl named Sierra Skye. Becoming a new mom of course did not stop Michelle either. She continues to compete and continues to win titles. She is a true champion and role model to us all.
Michelle's story is one of extreme struggle, incredible determination and triumph. She has shown us that no matter what life throws your way, if you stay strong, keep a positive attitude, believe in yourself, and absolutely refuse to give in – you really can achieve anything. The sky is the limit.
Learn more about how Michelle is now using her own personal experience to help and inspire others to reach for the sky at http://www.michellenazaroff.com

Comments
comments
Powered by Facebook Comments