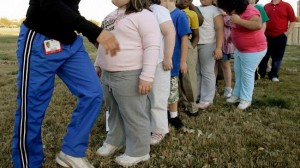 Welcome to eFitFamily.com!  For the month of September, we are honoring Childhood Obesity Awareness Month, as well as Yoga Awareness Month.  The statistics on childhood obesity are shocking: The Center for Disease Control reports that obesity prevalence among children and adolescents has nearly tripled since 1980.  http://www.cdc.gov/obesity/childhood/data.html  Currently, over 23 million children ages 2 to 19 in the United States are overweight.  To translate, childhood obesity affects one in three children, putting them at risk for numerous health concerns, including diabetes, high blood pressure, heart disease, stroke, reduced life expectancy, bone and joint problems, and sleep apnea.  www.healthierkidsbrighterfuture.org
From a mental health perspective, children who are overweight are more likely to experience issues related to self-esteem and social skills, including higher risk of being the target of bullying behavior.  Academic success is also affected, as children who are overweight are more likely to be eating foods that interfere with memory, ability to focus, alertness, energy level, and brain function, including ability to proces new information.
Please join us in supporting Childhood Obesity Awareness Month by re-evaluating your nutrition and exercise options for your children.  Can you serve smaller portions of food, replace processed foods with more natural whole foods, avoid sugary drinks, or limit video game time and encourage your children to play outside more?  In honor of Yoga Awareness Month, we encourage you to explore a family or children's yoga class due to its physical and emotional benefits.  Beyond just exercise, other health benefits of yoga include lower blood pressure, reduced stress, greater flexibility, enhanced brain function, lower cholesterol, better skeletal alignment, strengthened bones and joints, improved respiration, weight loss, enhanced circulation, mental focus, mind body integration, as well as deeper spirituality.  http://www.yogamonth.org/
We are aware that diet and exercise are not the only factors related to weight.  If your child is overweight, we encourage you to seek a thorough medical examination with your pediatrician or other health professional to determine any other contributing factors, such as thyroid or other medical issues.
For more information, please visit:
http://www.healthierkidsbrighterfutures.org/
http://www.cdc.gov/obesity/childhood/data.html
http://www.cdc.gov/obesity/childhood/solutions.html
Comments
comments
Powered by Facebook Comments