Summer is here and NOW is the time to enjoy the wonderful weather.  Who else better to enjoy it with?  Your spouse!  Life is getting busier and busier and our relationships seem to be more and more strained. Have you heard about couples having "date night"?  Well what about "daytime date" or "fitness fun"?
As we get older, we seem to make things more complex than they really are.  What about the good old days when we were kids and "played" with simple things like Frisbees?  Do you remember how much fun a Frisbee can be?
There is a rapid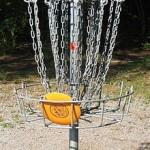 ly growing sport activity called disc golf.   It's a sport similar to golf, where the goal is to land your disc into a specified receptacle.  The disc is similar to a Frisbee, but slightly smaller and heavier.  There are many recepticles in the coursed area, which are on poles and netted with chains.  You keep score, similar to the golf sport we see on TV. You'll get in a great arm workout and the best part is, you actually have to WALK around the course.  No fancy carts to move you all around.  There are actually more than 3,000 courses across the US. Check out this website, where you can find a disc golf site in your state –
http://www.dgcoursereview.com/
  I've played before…and it's wickedly entertaining with friends.  Make sure you have a few spare discs…you will find them "strategically" getting lost in the woods.
What about other childhood favorites?  Like sprints to see who can make it to the finish line first?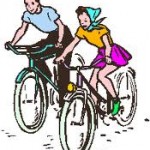 Or riding bikes?  Check out different neighborhoods…try and find somewhere new and interesting that maybe you haven't travelled by car.  When you're driving to get to a destination, you tend to seek out the fastest route.  When you're riding a bike you can browse leisurely and check out the scene.  Maybe you're looking for a new place to live, or you want to daydream about a new place to live.  Just challenge yourself to find something new – and ride bikes together to find it.
Most importantly, have fun!  And spend some quality time with your spouse while doing it
Comments
comments
Powered by Facebook Comments