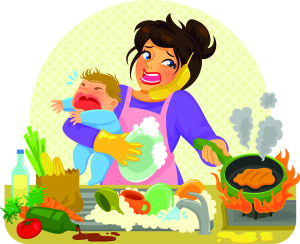 Summer days have wound down and the kids have gone back to school. After the crazy days of summer caring for the kids, this is the time for moms to think about themselves and their wellness.
Parents, especially moms, are known for putting their needs aside in an effort to care for their children. This is normal behavior, but over time it can take ill effects on the mother if she does not take time for herself. The weeks before the return to school is stressful. Shopping for school clothes, taking care of any school paperwork, trying to readjust your child to the "school routine" of going to bed early, and finding the items on the school supply list.
Now that the kids are back to school, moms can focus on themselves. Such as taking that Pilates or a yoga class she's always wanted to take all summer. Even just getting her hair and nails done can boost self-esteem. Participating in a wellness program such as yoga or meditation will boost both mental and physical health. Once mom takes care of her needs, then she will be more refreshed and able to tackle everyone else's issues in the family.
There are many types of integrative wellness programs in Naples that moms can take advantage of. These classes include Tibetan sound bowls, various meditation classes, and yoga classes. Since they are offered in the morning, afternoon, and evening hours, moms can fit it into their schedule. A lot will drop the kids off at school and then go straight to the yoga studio for a dose of calm and wellness.
Monarch Wellness has many types of yoga classes in Naples such as yoga for anxiety relief, yoga for strength and flexibility, recovery yoga and candlelight yoga. Visit our online calendar or call us for more information 239-231-3208. Our Central Naples location is at 843 Myrtle Terrace, Naples, Florida 34103.
Comments
comments
Powered by Facebook Comments