Our fast paced world is sometimes a challenge when it comes to meal planning. Busy parents often spend their evenings driving children to practices, school functions and study groups. This makes getting a healthy home cooked meal a challenge and many parents and busy professionals turn to fast food as the answer.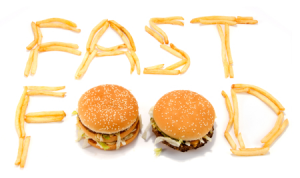 It's easy to just dash through the drive through or call the pizza delivery guy but that's not best for our health! So how can we eliminate fast food?
Seems impossible to many, but here are some ideas to help:
Plan ahead. When you have a game plan or in this case meal plan for the week you are not searching the cabinets for something to make or dashing to the store to purchase ingredients to whip up dinner.
Use a planner or application on your smart phone to help you organize your schedule. Looking at the entire week and being able to see events and times you need to be places will help determine what amount of time you have to prepare meals.
Cook meals in bulk and freeze left overs in single servings. Now you are ready for those emergencies when you don't feel like cooking or just a quick lunch or dinner without major preparation.
Use a slow cooker. Again you will need a little planning but if you prep the night before with cutting veggies and getting your meat ready then leave it in the fridge over night. In the morning while the coffee is brewing take the meal out of the fridge and put it in the slow cooker, and set the dial. When you get home the house if full of the delicious smells of your home cooked meal and you are ready to eat.
Stock your kitchen properly. Have staples for fast meals in the pantry, fridge and freezer. Here are some staples you will always find in my house: pita or flat bread, whole wheat pasta, pasta sauce, frozen vegetables, frozen fruit, frozen veggie burgers, frozen chicken or turkey, low fat cheese, beans, frozen brown rice, bread, salad fixings, tuna canned in water, you get the idea. All of these items can be used to whip up a quick meal in under 15 minutes. That's much faster than the pizza delivery guy.
Brown bag it. Packing meals and snacks in a cooler will help you be prepared and avoid the drive through. This can even be a dinner in the cooler if you will be working late or if the kids have a late night game.
Finally, if you are stuck and need to eat fast food, make smart choices. All fast food chains have nutrition fact information available. Make wise choices based on this information and don't go large.
You too can eliminate fast food and with a little planning you'll be on your way to better healthy living.
Comments
comments
Powered by Facebook Comments